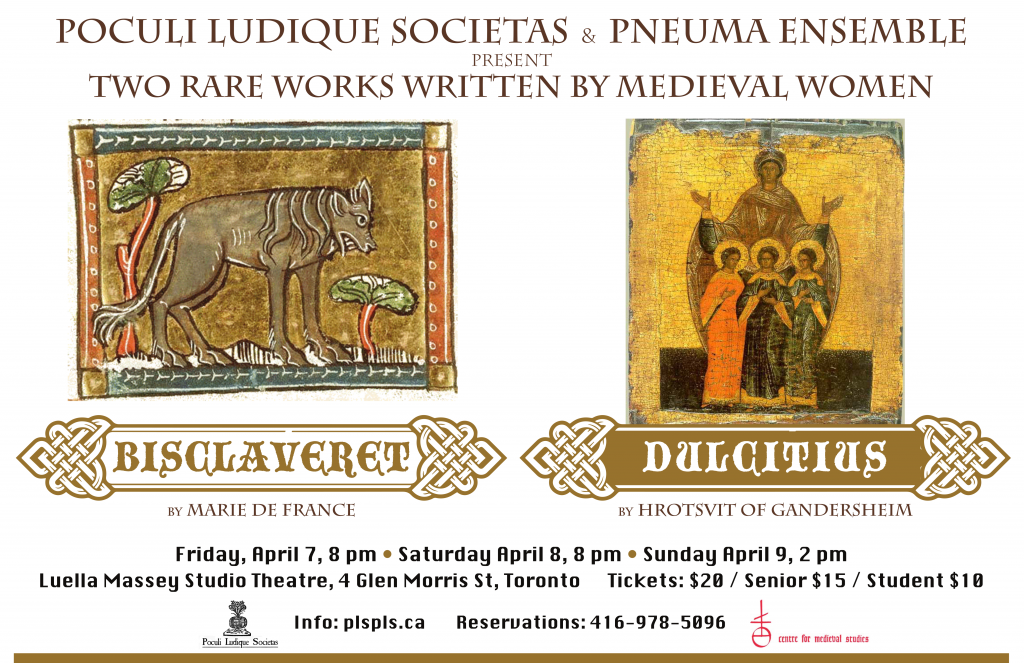 Poculi Ludique Societas and Pneuma Ensemble present two rare works by medieval women writers
Bisclaveret: The Tale of the Werewolf, by Marie de France (12th century)
In "Lai de Bisclaveret" Pneuma Ensemble presents Marie de France's classic anglo-norman werewolf tale of love, betrayal, human kindness, and revenge. The Baron, handsome and loved by all, including the King, has a secret: for three days every week; he disappears to the darkest part of the forest to become a werewolf. His wife betrays him, stealing his hidden clothing so that he cannot change back and marrying a knight who had long pursued her. Trapped in wolf shape, the Baron must find a way to return to court and wreak his revenge. The tale is told troubador-style with period music.
Dulcitius, or Sex in the Kitchen, by Hrotsvit of Gandersheim (10th Century)
Dulcitius is a fast-paced one act tragicomedy written in the 10th century by the nun Hrotsvit of Gandersheim. The production will be using a new translation by Dr. Colleen Butler from the original Latin. This rarely performed play tells the story of three virgin sisters who refuse to give up their Christian faith at the order of the emperor Diocletian. They are persecuted by various Roman officials but their prayers save them from sexual assault by the governor Dulcitius who becomes the victim of a hallucination in which he attempts to have sex with the pots and pans in the kitchen. Eventually the Romans are all foiled and the sisters achieve their desire to become martyrs for their faith.
Dates
Friday, April 7, 8 pm
Saturday April 8, 8 pm
Sunday April 9, 2 pm
Location
Luella Massey Studio Theatre, 4 Glen Morris St, Toronto
Tickets
$20 / Senior $15 / Student $10
Available at the door (cash payments only)
Reservations: 416-978-5096