FOR IMMEDIATE RELEASE
(PLEASE POST OR FORWARD)
NON-UNION · NON-PAYING
Poculi Ludique Societas (PLS) and St. Thomas's Anglican Church
Present: A Medieval Christmas
Performance dates:
December 11, 7:30 pm
December 12, 2:30 pm
December 12, 7:30 pm
The Project: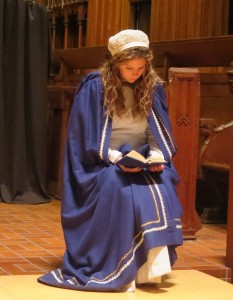 Toronto's renowned medieval and renaissance theatre company, Poculi Ludique Societas, is once again partnering with St Thomas's Anglican Church to celebrate A Medieval Christmas. This year's performance will include episodes from the N-Town manuscript about events leading up to the Nativity. These plays represent a solemn celebration of the birth of Christ, but there are still plenty of the shenanigans that lovers of medieval drama enjoy, plus beautiful medieval music to round out the production. Quickly becoming a holiday tradition, PLS productions with St. Thomas's Anglican Church are appreciated for excellent production value, including beautiful costume designs set in St. Thomas's lovely Arts and Crafts sanctuary. Under the direction of Kimberley Radmacher, our productions allow excellent emerging actors to hone their skills and to gain experience in early drama.
What we're looking for:
Versatile actors who are comfortable speaking verse and are able to sing. Good vocal ability is necessary because of the size of the performance venue.
Rehearsals:
There will be two rehearsals per week: Tuesday evenings and Saturday afternoons. Cast members will not be required to attend all rehearsals.
Audition Dates:
October 6, 7:00 – 9:00 pm
October 10, 2:00 – 4:00 pm
Callbacks October 13 7:00 – 9:00
Auditions:
Please email your resume and photo (if available) as soon as possible to director@plspls.ca (with subject line: Auditions) to book your audition time. Come prepared with a short classical monologue. You will be asked to read from the plays, which have been modernised, and may be asked to sing. Find out more about PLS at plspls.ca.