A Medieval Christmas 2015: This is a Marvellous Hearing!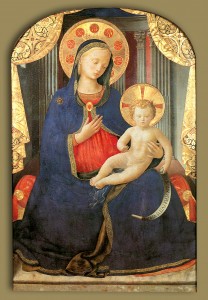 poculi ludique societas & st. thomas's anglican church present
A Medieval Christmas:
This Is A Marvellous Hearing!
Performance dates: December 11, 7:30 pm; December 12, 2:30 pm & 7:30 pm.
St Thomas's Anglican Church, 383 Huron Street, one block south of Bloor
Tickets : $20 / $15 senior / $10 student
Buy tickets online at: U of T Tix (cash only at the door)
Toronto's renowned medieval and renaissance theatre company, Poculi Ludique Societas, is once again partnering with St Thomas's Anglican Church to celebrate A Medieval Christmas. Continuing our exploration of the life of the Virgin Mary which we began earlier this fall with The Mary Play, this year's performance will include episodes from the N-Town manuscript about events leading up to the Nativity. These plays  celebrate the birth of Christ, but also reflect the skeptical yet real-life attitudes that any regular person might feel when confronted with such outlandish notions such as a virgin birth!  The N-Town manuscript poignantly draws its audience into its characters' incredulity and then deftly belies our collective lack of faith through the modesty and ultimate revelation of the Virgin's purity. The power of the N-Town manuscript lies in its insistence on the corporeality of Mary's body and the totally realistic reaction her peers would have had toward her claims of chastity. The basest of our human tendencies are depicted in these plays, yet even at our lowest moments of faith, God eventually intervenes and offers His grace. 
This year we are offering a Medieval Triple Threat. A Medieval Christmas will feature Toronto's medieval troubadours, Pneuma Ensemble, and if you buy tickets through UofT tix, you can bundle your tickets with a purchase of Sine Nomine's In presepio: medieval songs for the Christ-child to receive 20% off the regular price of tickets. That's as little as $32 to see three of Toronto's best-loved medieval performance groups in celebration of this festive season.
As usual, our cast features a bounty of up-and-coming talent joined by St. Thomas's avid and talented parishoners. This year we feature soprano, Megan Adam as Gabrielle; comic actor, Alan Belerique as Joseph; and Bristol Old Vic alumna Helen Cashin as the Virgin Mary. They will be joined by our music coach and soprano, Jennifer McCallum; Alice Degan; Jack Hunter; Rob Mitchell; Ermina Perez;  Madeleine Redican; and Second City improv grad, Abram Taylor. The ensemble is directed by PLS resident director, Kimberley Radmacher,  and designed by Artistic Director Linda Phillips.
Quickly becoming a holiday tradition, PLS productions with St. Thomas's Anglican Church are appreciated for excellent production values, including beautiful costume designs set in St. Thomas's lovely Arts and Crafts sanctuary.